Real Estate Website Builder
Showcase your deals on your very own real estate website! within minutes with our builder.
Start generating Leads for your Real Estate Properties, with our Website builder within minutes you can have a professional real estate website.
Showcase your deals on your own real estate for sale website.
Generate Real Estate Buyer Leads for your Properties
All the properties you post in your properties website have their contact form, whenever a guest or client fill the information required you're going to get notified with the information the user provided and it's stored in your AssetColumn Account.
1. Mobile friendly, 2. multiple templates, 3. meant to convert, 4. Custom are some of our main goals with our real estate websites.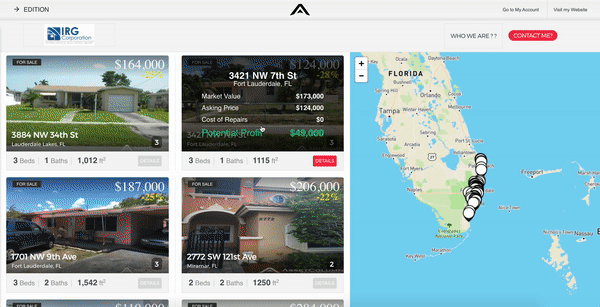 Multiple Real Estate Templates that Converts
Within a click you can switch between our properties website templates choose the one that you like the most. We create new templates based on what our users are requesting as (Designs, ideas, etc!)
Real Estate Website that Converts
Our designs and code are meant to make conversions in your website. Point your online and offline marketing efforts to your new real estate website. As soon as a new lead comes in, you will get and get notified via Email and SMS text message.
AssetColumn's integrated lead management system securely stores lead information and helps you turn lead prospects into sales.
More Tools For Real Estate Investors
Get your business growing